Could this be Canada's Prettiest Town?
If you've visited the valley where the Mad and Noisy Rivers meet, you won't be surprised that Harrowsmith Magazine ranked Creemore in their Top Ten Prettiest Towns. Around here, things haven't changed much in the past century or so. At least, the important things haven't. Neighbours greet each other by name as they enjoy the quiet, friendly atmosphere. Century homes stand proudly on the tree-lined side streets. And one of Canada's first Craft Breweries was founded in the village back in 1987. Here in Creemore, authenticity matters and craftsmanship is worth caring about.

---
Creemore Means "Big Heart" In Gaelic
History lives here. The town was founded in 1845 by Irishman Edward Webster who proudly named the streets after his family. The local paper, the Creemore Echo, traces its origins back to 1886. The jail, North America's smallest, was built in 1892. And two hotels from the 1860s are still standing, The Sovereign and the Matchett Hotel, which is now Mad River Pottery. In Creemore, roots run deep.
Coming Soon 4 & 6 Plex Condominiums
Real Life on the Road Less Taken.
People visit Creemore to enjoy the warmth and charm of downtown with its trendy boutiques, fine restaurants, welcoming pubs and cheerful cafes, as well as the auctions frequently held in the local Legion Hall. But when you call Creemore home, you'll appreciate everything that's right around the corner: grocery, banks, drugstore, hardware, gifts -and smiles. Of course, kids can walk around their neighborhood, and Collingwood, Barrie and Toronto are a short – and picturesque – drive away. In Creemore you'll find real life is a little more balanced in a real village that's comfortably off the beaten path.
Living from the heart means knowing what you truly want and where you come from. Discover where you want to be... Hometown Creemore
The Best of Nature and Neighbourhood.
The rolling hills and cooling winds take you on a journey every time you leave your home. Drive north on Mill Street over the hilltop for breathtaking views of Georgian Bay,where you can go boating,swimming,fishing and more.Visit the Farmer's Market. Buy local and organic produce from The New Farm. Spend sunny afternoons at Mad River Park. Join the Creemore Tennis Club. Enjoy miles of adventure along the Bruce Trail just 4 km from town, great for biking and hiking in summer, cross country skiing in winter, or head for some of Ontario's best downhill skiing at Blue Mountain just up the road.Living in Creemore is somehow fuller and more active. Because that's simply how it is in a close-knit Old Ontario community.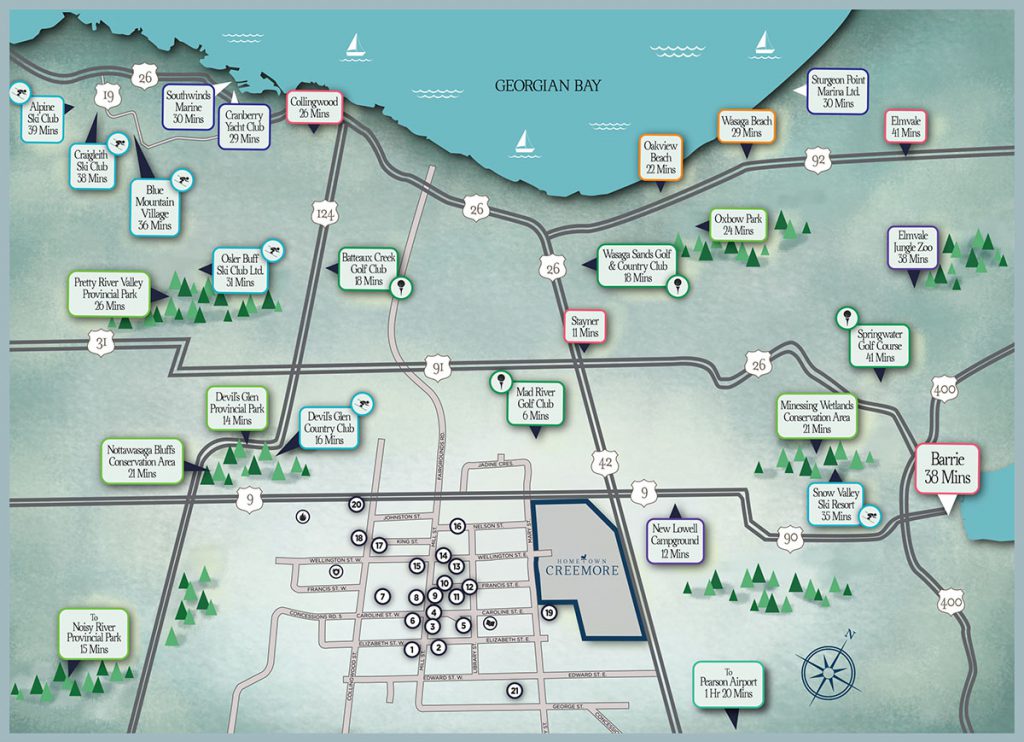 Creemore Kitchen
RE/MAX Creemore Hills Realty
Victoria Values
Creemore Springs Brewery Limited
The Old Mill House Pub
Royal LaPage RCR Realty
Creemore Meat Market
Creemore Home Hardware
Creemore House of Stitches
Sovereign Bistro & Grill
LCBO
Heirloom 142
The Roof Global
Affairs Catering Bakery & Cafe
Chez Michael
Mad & Noisy Gallery
Pizza Perfect Wings & Good Things
Creemore Post Office
Seasons
St. Andrew's Maple Cross Presbyterian Church
The Creemore Echo
St. Luke's Anglican Church
Carboard Castles Children's Emporium
Creemore 100 Mile Store
Curiosity House Books
Sotheby's International Realty Canada
Fawcett Funeral Home
Creemore Village Pharmacy IDA
Bank Cafe
TD Canada Trust
Foodland
Creemore Farmer's Market
Life's A Slice Pizzeria 2009
Car Wash
Creemore Veterinary Services
Creemore House Inn
St. John's United Church
Angel House Bed & Breakfast
Creemore Baptist Church
Creemore District and Recreation Centre
Creemore Valley Care Community
Nottawasaga & Creemore Public School
Creemore Tennis Club